Welcome to those news stories that crossed our desk and which collectively prompted us to smile, sometimes laugh or even draw in a sharp breath or two. If there are stories you would like to share with a wider audience feel free to send them through to our
email.
1. The force is strong here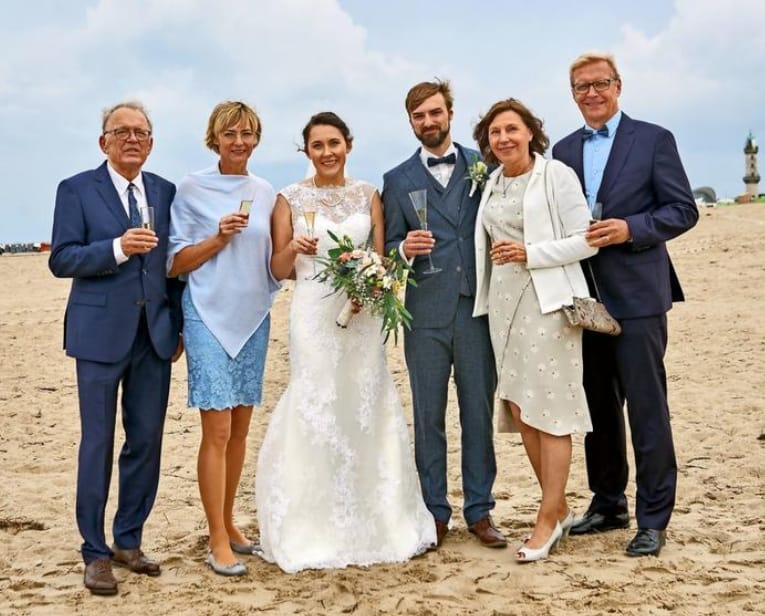 We were forwarded pictures of the wedding of a boy and a girl. Nothing too remarkable there. Except that the boy was Toni, the son of Heike Drechsler [now Dreschsler-Brygarre] and her husband the Finnish 110m hurdler Arto Brygarre. And with whom had Toni fallen in love? That would be Ulrike, the daughter of Marita Koch [now Meier-Koch]. Dreschler-Brygarre is pictured to the left of the loving couple, and Meier-Koch to the right.
Drechsler is the most successful long jumper of all-time: the only woman to have twice won gold in the Olympic long jump and her marginally wind-assisted jump of 7.63 metres (+2.1) in 1992 at altitude in Sestriere, is still the furthest a woman has ever long-jumped [+2 is the limit]. And Marita Koch? She set 16 sprint outdoor world records and 14 in indoor events in distances that ranged from 50m to 400m. Her record of 47.60 in the 400 metres, set on 6 October 1985, still stands.
And both of them were inducted into athletics'
Hall of Fame
in the same 2014 intake.
Here is Drechsler in gold medal position in the 2000 Olympics as the long jumpers start the final round.
Is it too soon to be thinking about the 2044 Olympics?
2. What is going to happen to all of those strawberries??!
We couldn't possibly comment on the assertion that Wimbledon is really a fortnight of strawberry eating at which some rather good tennis also happens to be played [weather permitting].
But it is certainly true that one of the most venerable and popular Wimbledon traditions revolves around strawberries. So much so that everybody in the tennis world has a clear opinion on how best to eat them.
The strawberries consumed at Wimbledon each year – all 1.4 million of them, or just under 200,000 portions - have been sourced from a single farm in Kent for more than 25 years: Hugh Lowe Farms, which has been run by the same family since 1893 [or 15 years after the first Wimbledon].
As
SW Londoner
discovered:
'Strawberries are hand-picked as the sun rises at 4am and quality checked to ensure they are good enough to land in a Wimbledon-bound tray. Only Grade 1 English strawberries from Kent are picked. The chosen fruit are then taken 30 miles to The Championships on each day of the tournament, arriving at the All England Club at 5.30am to be checked again, hulled, and ready to fly off shelves once the grounds open at 11am. At the 2019 Championships 191,930 portions of strawberries and cream were consumed by tennis fans.'
With Wimbledon cancelled for the first time since 1945, what will become of the 28 tonnes of 'strawbs' that would otherwise be heading to SW19?
According to Marion Regan, MD of the Hugh Lowe Farms, plans are already in place to switch supply to local shops as well as donate the surplus to a London food bank.
'We will make sure nothing goes to waste. It's more important now than ever we look after one another,' Regan said.
---
3. Michael Jordan – the stats don't lie
Hopefully you took our suggestion [and that of so many others] and invested some time in watching the first two episodes of the 10-part documentary The Last Dance, which charted the extraordinary final season that Michael Jordan and the Chicago Bulls had together. The Last Dance shows on ESPN in the USA, and a day later on Netflix in international territories.
[A big shout-out by the way to all the good people at Walt Disney for the immensely successful, almost hysterical fever-pitch of anticipation that you were able to drive us to.]
The documentary is, of course, a powerful reminder of what the NBA no longer has: Michael Jordan. But video alone doesn't settle the argument of whether or not Jordan is the Greatest of All Time.
To help settle that discussion, we introduce Nate Silver, here talking at the Oxford Union about the power of big data to make sense of sport.
Silver's company FiveThirtyEight is perhaps best known for its eerily accurate political polling.
But they have now turned their attention to the Michael Jordan vs [enter your favourite NBA star] debate. And this is their sort of final, definitive analysis along with reams and reams of quite frankly overwhelming statistics.
We share
this
with you, so that as The Last Dance plays through [final episode is May 17] you too can be the best informed basketball fan in the room, or the best bluffer!
---
4. 'I know nothing about Pele …'
It may seem like it is harder and harder to find even the smallest seam of good news about when the Live Event industry might come back to life, and how we can get back to the thing that sustains us both professionally and emotionally.
We were therefore much taken that an American podcaster made a plea over Twitter:
'Dear Sports Industry, stop spreading fear that people won't come back to watch live sports events'.
@SportsTao then linked to a clip from the 1985 movie Vision Quest about a particularly determined young wrestler whose focus is thrown out by the arrival of a beautiful young woman. The story arc is not important. But this wonderful quote is …
Elmo: I was in the room here one day... watchin' the Mexican channel on TV. I don't know nothin' about Pele. I'm watchin' what this guy can do with a ball and his feet. Next thing I know, he jumps in the air and flips into a somersault and kicks the ball in - upside down and backwards... the goddamn goalie never knew what the fuck hit him. Pele gets excited and he rips off his jersey and starts running around the stadium waving it around his head. Everybody's screaming in Spanish. I'm here, sitting alone in my room, and I start crying.
[pause]
Elmo: That's right, I start crying. Because another human being, a species that I happen to belong to, could kick a ball, and lift himself, and the rest of us sad-assed human beings, up to a better place to be, if only for a minute... let me tell ya, kid - it was pretty goddamned glorious. It ain't the six minutes... it's what happens in that six minutes.
---
5. Don't gamble on tribal lands – ESPN tells UFC
UFC 249 was supposed to have taken place just this past Saturday night but it was postponed earlier this month after long-term broadcast partners ESPN gave the martial arts organisation the hard word: it's not worth the risk. ESPN said in a statement: 'Nobody wants to see sports return more than we do, but we didn't feel this was the right time for a variety of reasons. ESPN expressed its concerns to the UFC and they understood.'
The UFC's plan was rather ingenious: stage the fights at the Tachi Palace Casino Resort in Lemoore, California - near Fresno. Although the local sanctioning body had cancelled all combat sporting events until May 31, the Tachi Palace Casino Resort is situated on tribal lands, and so the ban did not apply there. The casino also did not have to follow the state's mandatory 'stay at home'.
Joe Rogan, who works for the UFC as a fight caller, was in the middle of his immensely popular podcast when the news broke live. This was his reaction, and assessment of UFC's decision [beware of swearing].
---
6. Best work-from-home video to-date?
Slight change of pace from discussing UFC, but we'd like to leave you with a simply breath-taking compilation from the artists of the Paris Opera, all of whom, of course, are 'locked down' but still practising their art.
And if this intrigues you into further investigation, we heartily recommend this Google-powered
virtual tour.