Everything about Roland-Garros is  exceptional, but the Night sessions – which are finally being held with the stands full of spectators – promise to be an unmissable part of this year's tournament.
The day's top-billed match
Introduced at last year's tournament but closed to spectators for most of the tournament, the Night Sessions are back in full force but this time Philippe-Chatrier court will be at maximum  capacity and with no curfew. It is an opportunity to watch the day's top-billed match and experience the excitement of a thrilling tennis duel heightened by the floodlit atmosphere.
Some of the tennis super starts that played in last year's Night Sessions included Serena Williams, Iga Swiatek, Novak Djokovic, Rafael Nadal, Roger Federer, Stefanos Tsitsipas and Daniil Medvedev. With full crowds you can expect some more fascinating match ups at this year's Roland-Garros. Choose from the ten Night Sessions scheduled between 23rd May and 1st June, starting at 8.45pm.
Unmatched price for an unrivalled experience (and unlimited Champagne)
With prices starting at €320, the Mezzanine Package for the Night Sessions on Philippe-Chatrier are unmatched value for money across the slams. On the first floor of l'Orangerie, you'll find the very bright Mezzanine, which accommodates up to 120 people for a cocktail-style dinner. Offering an unlimited service of Champagne, wine, and more, plus a Roland-Garros souvenir for all guests, the historic Orangerie building is a VIP hospitality area located just 100 metres from the famous main court.
Flashback to 2021
Although not a night session, the 2021 edition had a preview of a fantastic evening under the lights in Philippe-Chatrier. The famous semi-final where Novak Djokovic defeated 13-time Roland-Garros champion, Rafael Nadal, went on into the night getting dangerously close to the French government's curfew at 11pm. The match was paused while attendees were asked to leave the stadium, but the famous Paris crowd was not budging, and after some mighty chanting managed to get the 'approval of the French government' to remain in the stands. Who would want to leave?
Every night is a special night
If you manage to get packages for the  Night Session, make sure to get to your seats on time (easier said than done when considering French food and wine). The Night Sessions will kick off with an impressive light show before the players walk on court.
All day and all night
If you want to enjoy the evening show without missing out on a day exploring Roland-Garros stadium and enjoying the many entertainment activities on offer, buy one of our Full Day Packages. Get your fill of tennis action with four top-class matches: three during the day and one at night. And don't forget that the new Philippe-Chatrier has a roof, so no amount of rain will get in the way of you and world-class tennis.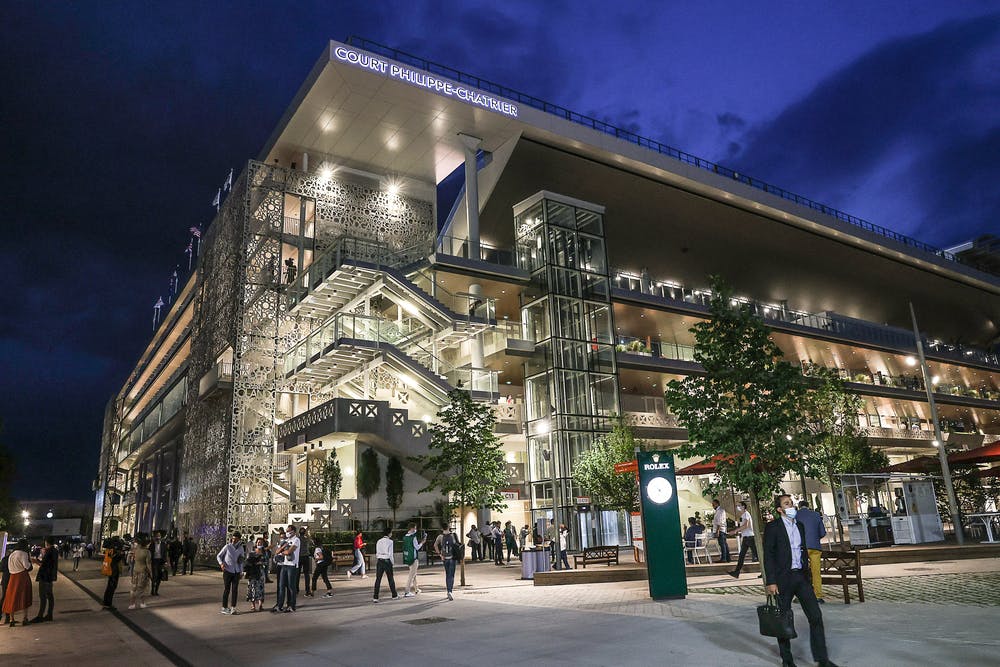 Schedule
The FFT is announcing next day's schedule at 4pm every afternoon.
---
Package highlight
To summarise, here is what a Night Session Package in the Mezzanine at the Orangerie will get you:
Drinks included (Champagne, wine, beer and soft drinks)
Cocktail-style dinner
Category 1 seats located in the Henri Cochet tribune
Dedicated access via gate 49
Official Roland-Garros gift
Hospitality opens 2 hours before the match and closes 1 hour after the end of the match