Ashley Metcalfe is the CEO of British Canoeing and has a wealth of experience in leading a number of businesses specialising in marketing and events, as well as CEO of a natural healthcare company. Prior to joining British Canoeing in June 2022 Ashley was the CEO of British Weight Lifting for nine years, where he oversaw a successful transformation of the national governing body. A former professional cricketer, Ashley played for Yorkshire County Cricket Club from 1983 to 1995 and Nottinghamshire in 1996 and 1997.
What was your first VIP hospitality experience at a live event?
I was fortunate to be taken at a young age by my father to numerous sporting events that the company he worked for sponsored. These included rugby league, speedway, stock cars, crown green bowls, horse racing, cricket and football. As you can imagine the hospitality on offer varied enormously although perhaps the standout in terms of standards was attending Old Trafford for the Manchester United matches although this was equally quite challenging as a Leeds United fan!
Social media platforms have allowed people to share their live, sporting experiences with family, friends and colleagues. Arguably allowing others to participate without being at that event. If you had to share a particular moment from a sporting event that encourages and inspires people to attend in person, what would it be?
Social media has opened up the ability to share experiences and great events to a much broader audience and really highlight the benefits, the excitement and fun of being at "live" events. To have been at London 2012 and see Usain Bolt sprint to victory in the blue ribbon 100m final is a great memory and must surely have inspired people all round the world to become a little fitter, healthier and stronger.
The 2023 International Canoe Federation (ICF) Slalom World Championships fall under watch as the CEO of British Canoeing. Why should people book tickets or hospitality and attend?
Sharing experiences from "live" sporting occasions, especially of the highest level creates great memories and opportunities to inspire future generations of athletes, spectators and volunteers.
The 2023 ICF World Slalom Championships will see the very best paddlers compete not only to show who is currently the best in their sport but it also provides opportunities for paddlers to qualify for next year's Olympics in Paris.
It will be hugely exciting and will provide a great platform to encourage our British Team, including current international champions Mallory Franklin and Joe Clark to produce their very best form in their own back yard and in front of a home crowd.
How has your upbringing and family experiences shaped who you are today?
My family has always supported and encouraged my decisions to play sport and to remain in sport throughout my working career, which has provided the confidence and stability to work and play in a sector that offers so much to so many and can be hugely beneficial and life changing in terms of physical and mental health benefits as well as the social impact in can offer.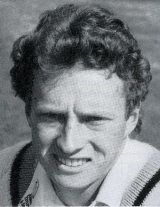 What should every person running for elected office in sport be compelled to promise and deliver?
Honesty and integrity are key for me – the sport is critical but not forgetting the athletes and those involved (the people) are its biggest assets.
If you could have an exclusive interview with any sporting legend, past or present, who would it be and why?
I would love to have met and interviewed Seve Ballesteros. He was an inspirational sportsman and golfer, who revelled in the challenge, loved to win and enjoyed playing the game at the highest level. His record was phenomenal and he inspired many generations of future golfers to take up the game and follow in his footsteps.
What advice would you pass back to an 18 year old Ashley Metcalfe as he embarked on his career?
Be confident in your own ability and back yourself 100% - always listen and be prepared to learn. Be totally honest with yourself and never be afraid to look in a mirror. Never fear failure – you only get better by learning from your mistakes but make sure you do not make the same mistake twice.
Which televised sporting event do you most remember from your childhood and why did it make such a lasting impression on you?
England v Australia at Headingley in 1981 when England were 500/1 to win and Ian Botham scored 149 not out and Bob Willis took 8-43 to secure a hugely memorable and most famous victory.
Who do you consider to be your business mentor/mentors?
I have been lucky to have been in the company of many successful individuals and I have used that time wisely to learn off them all. Consequently I have learnt from a variety of people over the years and really valued the experiences gained in professional sport. There was much to learn, especially around remaining very level headed and many transferrable skills on offer that would be beneficial in future roles.
What is the best book that you've read in the last year?
Staying the Distance by Catherine Baker which showcases the much-needed leadership lessons that sport can teach us: how to improve, perform and achieve, in ways that are effective and sustainable. Leadership can be hard. It can certainly be relentless. With Catherine's unique view into world-class sport and top-level business, and with insights from top performers in both worlds, this book provides a fresh and dynamic take on how to bring out the best in yourself, and in those you lead.
What was the game changing technology that changed the way you worked?
Mobile phones and how they evolved into smart phones ensuring you can keep up to speed with every aspect of your business needs whatever time of day and wherever you are in the world. They ensure you can now work flexibly and achieve a work life balance that does not tie anyone to an office desk anymore, without compromising on results.
Tell us something even your colleagues might not know about you.
Whilst raising money for two excellent and much deserving Charities, I once held a Guinness World record for driving the most modes of transport in 24 hours, including planes, trains, boats, an F1 car and a hearse, bikes, such as penny farthings, skate boards, skis etc to name a few…. a fantastic experience for two great causes.
Experience the Canoe Slalom World Championships.
British Canoeing has teamed up with leading global hospitality company DAIMANI to offer a VIP hospitality experience at the Lee Valley White Water Centre in London.  Six days of elite level competition will see over 300 athletes from more than 50 countries compete for both 2024 Olympic qualification and world titles in Canoe/Kayak Slalom and Kayak Cross.
You can enjoy the best view with close proximity to the course, the teams and athletes, VIP access and VIP parking. The hospitality lounge is an exclusive space which benefits from indoor & outdoor facilities and a Best of British menu. This unique hospitality experience is perfect for businesses, families, enthusiastic paddlers and those wanting to experience the high energy sport & the iconic Olympic venue for the first time.
Click on the image below or this link for more information and to secure your place at this prestigious event.